Experience Ravinia's most intimate concert hall with great performances. Live entertainment for the price of a movie.
Located in the John D. Harza building, Bennett Gordon Hall is where future generations of
great artists are now appearing. Click here for directions to Bennett Gordon Hall.


3/22 Musicians from Ravinia's Steans Music Institute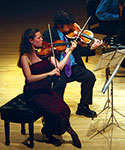 The chamber ensemble Musicians from Ravinia's Steans Music Institute (RSMI) comprises some of the most talented musicians who have attended Ravinia's summer conservatory. This March 22 concert at its home-base opens a spring tour of the ensemble to cap the 25th anniversary of RSMI. The ensemble is led by world-renowned violinist and RSMI Piano and Strings Program Director Miriam Fried, performing with violinist Alexi Kenney, violist Matthew Lipman, cellist Matthew Allen and pianist Henry Kramer. The program includes Haydn's Piano Trio in E-flat Major; Schubert's String Quartet No. 15 in G Major; and David Ludwig's Aria Fantasy for Piano Quartet, one of several works commissioned by Ravinia in honor of RSMI's anniversary.
The Midwest premiere of Caroline Shaw's Pulitzer Prize-winning Partita for Eight Voices will be performed March 29 by Roomful of Teeth, the a cappella ensemble for whom the piece was written. Shaw, the youngest composer to win a Pulitzer for music, is a member of the group. The work was featured on Roomful of Teeth's 2012 debut recording on New Amsterdam Records, which made several year-end "best of" lists. The program also includes works by Rinde Eckert, Caleb Burhans, Judd Greenstein, Brad Wells and Merrill Garbus.The group has been lauded on WQXR's Q2 for a "peerless combination of virtuosity and versatility" and has twice been a Critic's Pick by TimeOut New York.
4/12 Marquis Hill, Jazz Trumpet
Chicago Jazz Orchestra trumpeter Marquis Hill will assemble his own ensemble for an April 12 concert and album-release party. The concert will include works from Hill's forthcoming third album, The Poet. As a Chicago Public Schools student, Hill participated in Ravinia's celebrated Jazz Scholars program and then went on to be hand-selected for the jazz program at Ravinia's Steans Music Institute. Having recently earned a master's degree in jazz at DePaul University, he has already established himself among the vanguard of Chicago's jazz scene, performing with such artists as Bobby Broom, Willie Pickens, Dee Alexander, Ron Perillo, Benny Golson, Roy Hargrove, Clark Terry and many others. Hill has also toured within the U.S. and abroad with such ensembles as Sirens of Sound, The Delisfort Project, Chicago 12, Bebop Brass, Ronald Carter Big Band and New Horizons.